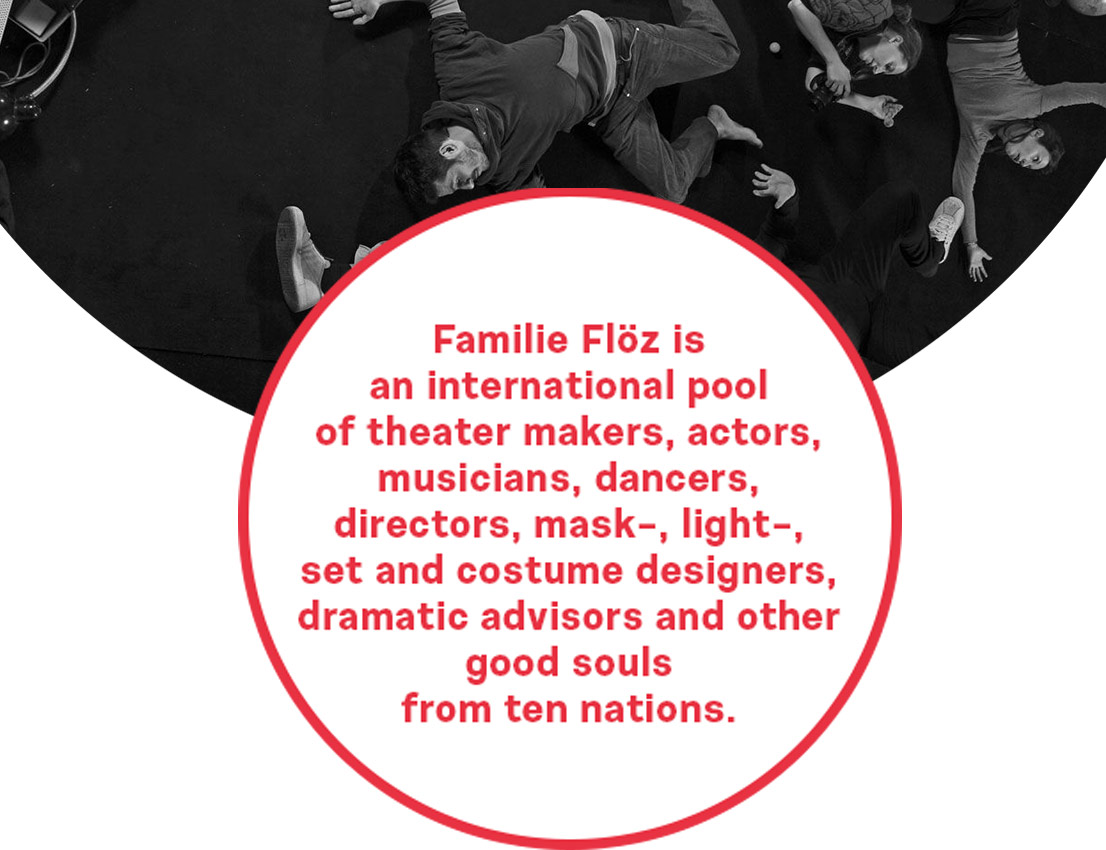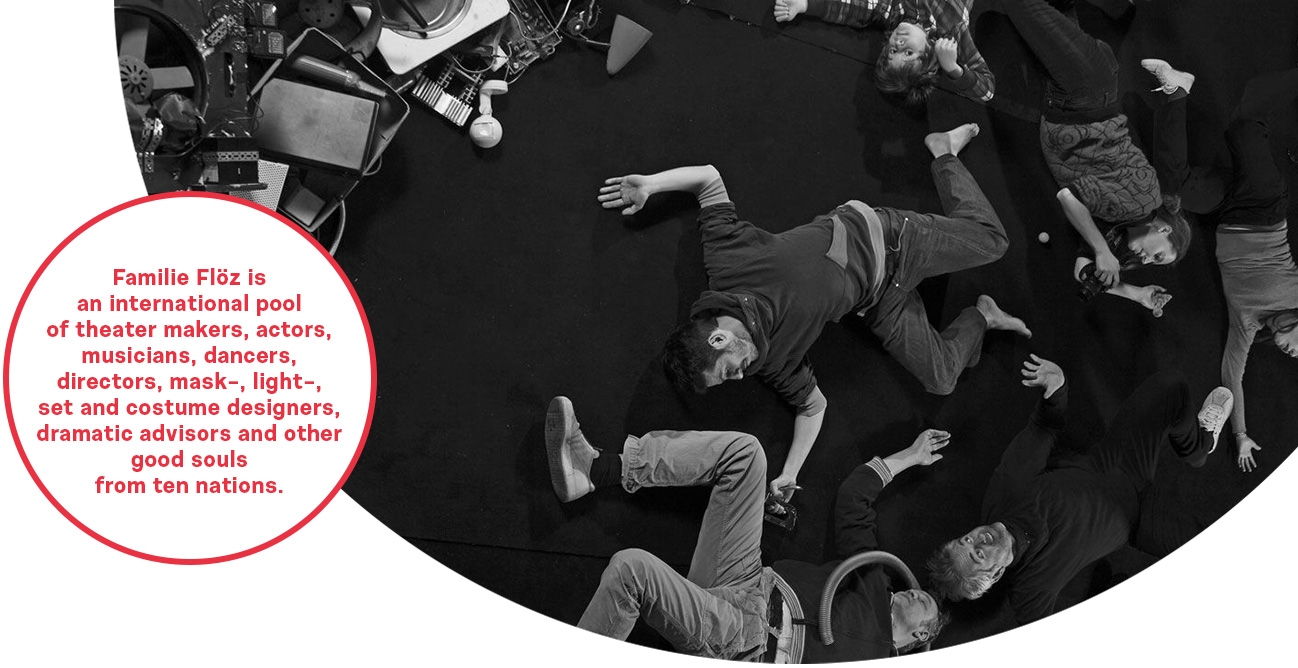 "We believe that masks are as universal
as they are ingenious inventions of man and
inseparably linked to theatre and our search for ourselves.
We believe that laughter enables the audience to open up,
become vulnerable and experience a wide range of emotions.
We also believe that failure in life plays the secret leading role.
That is why we try to give failure an important place in our work.
This is true for the stories we tell
and for the way we want to play theatre."
Familie Flöz is an international theatre company based in Berlin.
Originating from the Folkwang University of the Arts in Essen, today it stands for the rediscovery of theatre with masks.
In the name of this constantly changing company - taken from the title of the first joint play "Familie Flöz kommt Über Tage" - there is also a self-conception hidden. In the jargon of mining, "Flöz" refers to the layers of soil in which valuable raw materials are stored. In a collective creative process, archetypal character are created for each production in an interplay of improvisation, masks and writing. To date, the ensemble has developed twelve full-length plays for these characters, which often cannot be assigned to any common genre, but are always comprehensible across language boundaries.
Andreas Dihm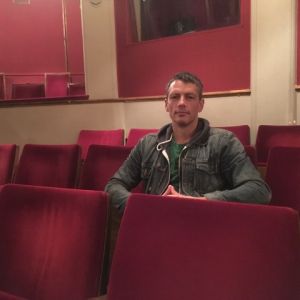 VIDEO | ANIMATION
Infinita, Garage D'Or, Haydi!, Himmelerde
Born in Munich. Animation studies at Babelsberg Film Academy (now Babelsberg Film University). Freelance animator and animation tutor. Further theatre productions: Die Schneiderin (Gardi Hutter), Klasse Klasse (Theater Strahl). Exhibitions and media installations: German Museum of Books and Writing, Borderland Museum, African Pavilion at EXPO Zaragoza. Short Films and Series: StrAngel – The Angel of the Odd (morro images), I spy with my little eye (Flussaufwärts Film), Kanzlerkantine (NDR - Extra 3). Own projects as animator and author: Elemonsters, Kinder Klips, Au Backe!
Andrés Angulo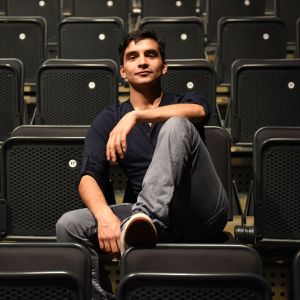 ACTOR | AUTHOR Haydi!, Feste
ACTOR Teatro Delusio
Born on Friday the 13th in Bogotá, Colombia. Actor, mime, clown and theatre educator. Trained at École Supérieur d'Art Dramatique (CNSAD) in Paris and Folkwang University of the Arts in Essen. Actor in following theatre productions: Les Concerts de l'improbable (Théâtre de Châtelet), Mim'Provisation (Compagnie Mangano-Massip), Abhängig (Mime Minimal), Le Roi Lear (de Jan Lauwers), Oraison (de Fernando Arrabal / Cie du Mystère Bouffe).
Surtout n'est pas rester au lit à ne rien faire!
Anna Kistel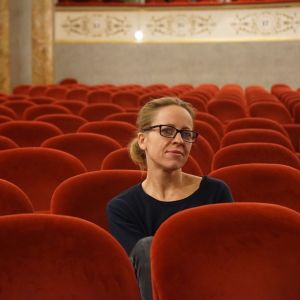 ACTRESS | AUTHOR
Hotel Paradiso, Garage D'Or, Dr Nest, Himmelerde, Hokuspokus

Born in Berlin. Educated at the School of Visual Theatre in Jerusalem as well as the École Internationale de Théâtre Jacques Lecoq in Paris. Engagements at travelling theatre "Los Dilletantos," puppet theatre "Ha Karon" (Jerusalem), clown solo "Brilli", travelling theatre "Ton und Kirschen", clown duo "Vorsicht Grenze", Berlin Youth Dance Theatre "Kiekkebuk", Theater Strahl "Klasse Tour". Actress and author for Familie Flöz.
"Laughter is the shortest distance between two people."
Victor Borge
Benjamin Reber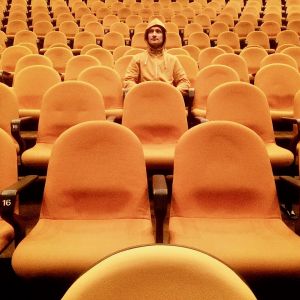 ACTOR | AUTHOR
Infinita, Garage D'Or, Dr Nest
MUSICIANFeste
Born in Basel, Switzerland. State-approved artist. Specialised in acrobatics and tightrope dancing at ETAGE - School for Performing and Fine Arts in Berlin. Benjamin Reber took part in following productions: Fallen (Berlin), Breughel (Atelier de création in cooperation with ESAC-Brussels) as well as the Midnight Show at Chamäleon (Berlin). Artist and actor in "Circus Quantenschaum" (Bremer Shakespeare Company), he also appeared in "Klasse Klasse" (Theater Strahl Berlin). He plays piano, violoncello and trumpet. As a trumpeter, he accompanied the Berlin ska group "Tiefenrausch". As a cellist, he was in charge of the musical accompaniment of the play "The Broken Jug" by the puppetry graduates of Ernst Busch Academy of Dramatic Art in Berlin. Additionally, he makes regular guest appearances as a musician for the Swiss duo "Les Papillons".
Björn Leese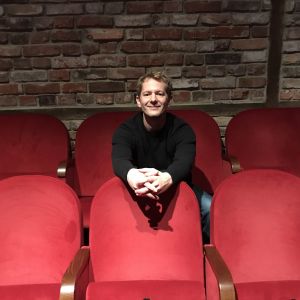 ACTOR | AUTHOR
Ristorante Immortale, two% happy hour, TWO% Homo Oeconomicus, Navigazioni, Teatro Delusio, Infinita, Garage d'Or, Haydi!, Dr Nest, HimmelerdeCO-DIRECTIONFeste
Born in Duisburg. Trained at Folkwang University of the Arts in Essen. Actor in numerous productions at Dortmund Opera House, at Essen Theatre and Philharmonic as well as Bonn Theatre. Additionally, actor, author and musician in the shows "girl meets boy", "Konzert für Amor" and "dog save the queen" with Olinka Feldekova. As a live stage musician, he was engaged for "Mr. Bunk's Shadow Show" at Chamäleon Berlin, among others. He is lecturer and workshop leader for mask and physical theatre. With Familie Flöz he works as actor and author.
Dana Schmidt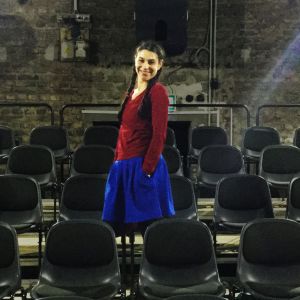 ACTRESS
Ristorante Immortale, Teatro Delusio
Born in Frankfurt (Oder), Germany in 1975. After completing sucessfully her studies in acting at Berliner Schule für Schauspiel (1999 – 2002), she obtained the skill of mask theatre and has performed with Familie Flöz in Ristorante Immortale and Teatro Delusio as well as in Theatre Fragile productions Home, Out of Bounds, Himmel in Sicht, Ahoi and Anton, Luka und Benjamin. Furthermore she is the character named "Hella" in Theater Strahl productions Klasse Klasse and Klassetour. In Potsdam she worked with Fynbarr Ryen and Petra Föhrenbach to create and perform the half mask play Wilde Jagd. As guest tutor at the Berliner Schule für Schauspiel she has taught students body movement and how to perform with masks and developed together with them the play Zeltlichter. In addition she has been giving lessons in performing with masks and she has been attending herself various workshops such as suzukitraining, viewpoints, clown classes, improvisation and how to build masks. In 2016 she will be back acting in Teatro Delusio.
Daniel Matheus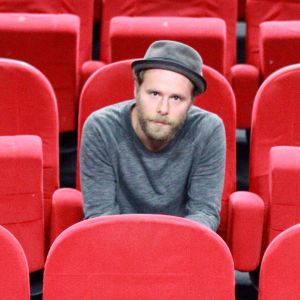 ACTOR
Hotel Paradiso
Born in Soltau, Germany. Actor and performer, trained at Folkwang University of the Arts in Essen. Parallel to guest engagements at severeal theatres, he launched the production ensemble Performing Group with Leandro Kees and produced the multi-award winning play "TRASHedy" at Tanzhaus NRW in Düsseldorf. Hotel Paradiso is his first cooperation with Familie Flöz.
Dirk Schröder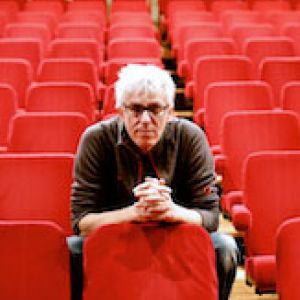 MUSIC | SOUND DESIGN
Teatro Delusio, Infinita, Hotel Paradiso, Garage d'Or, Haydi!, Dr Nest
Was born in Düsseldorf. He studied piano with Peter Ablinger and saxophone with Johannes Barthelmes and took classes at the School of Audio Engineering in Berlin. In the years between 1991 and 1996 he was the musical director of the Tempodrom's Children Circus. 1992 Dirk owned a sound studio in Berlin. He composes, arranges and creates sounddesigns for films, TV, radio, theater and media installations such as the Expo 02 Arteplage Biel Pavillon "Grenzen (er)leben", "Der Selbstmörderwettbewerb", "Das Wintermärchen" of the Shakespeare Company Bremen and the TV-serial "Tatort". For Familie Flöz he composes the music and creates the sounddesign of the productions.
Fabian Baumgarten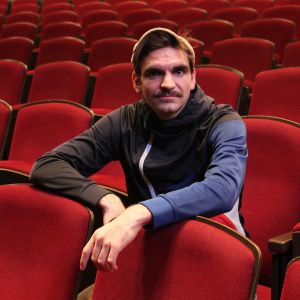 ACTOR
Hotel Paradiso
AUTHOR | ACTOR Dr Nest, Hokuspokus
He finished his acting diploma in 2013 at the University of Music and Theatre in Hannover. Before, while and after his studies he played amongst others at the State Theatre Hannover, the German Theatre in Göttingen, at the Bad Hersfelder Festspiele, the Ruhrtriennale, the Recklinghauser Ruhrfestspielen, the Theatre Osnabrück, the Maxim Gorki Theatre Berlin and the Studiotheater Hannover, where he won three ensemble – awards at national and international theater festivals, with the production "barbarian paradise". Since 2015 he is the artistic director of the art associaton Artistania e.V. in Berlin. For Familie Flöz he plays the character "Urs" in the production Hotel Paradiso.
"Ma hat ma Glück, ma hat ma Pech, Mahatma Gandhi"
Bernd Stelter
Fabian Kalbitzer
MUSIC | COMPOSTION
Dr Nest
Born in Hannover. Educated as Jazzmusician at the Folkwang Hochschule Essen. Played in numerous bands like Pinx, Sublimation Orchestra, Corinne Douarre, Claudius Mach and Quinteto Àngel. As a live stage musician he was engaged at the Schuabühne Berlin for "Herr Holpert" and "Supermarket", at Chamäleon Berlin for Mr.Bunks`Shadow Puppetry and with Olinka Feldekova in her show "Dog save the queen". As a free improvising musician he takes part, among other things, the "Projekt Schwedt"
With Familie Flöz he is currently composing the music for "Nest".
Chase away the demons, and they will take the angels with you
Joni Mitchell
Florian Mönks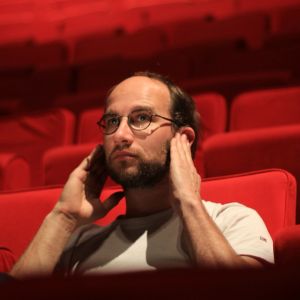 SOUND
Hotel Paradiso, Infinita, Teatro Delusio
Born in Aachen. Musician, composer, sound designer, audio and media engineer based in Berlin. Has been producing music and sound for stage, film, dancefloor and records since 2003. Extracts of his work include Luftleerer Raum – 2014, Silent Youth (film music) – 2012, Lenin in Vogelsang (sound design) – 2013, Indie Rocks - 2013, Stargaze (production music for Beatbox Music Australia) - 2014, Gesichter der Verdrängung – 2014. In addition, he works as a sound designer and media engineer for the company Theatre Fragile (Out of Bounds – 2014, Home - 2012) and gives workshops on sound and music in film as well as audio drama production. Sound designer and audio engineer for Familie Flöz.
Frederik Rohn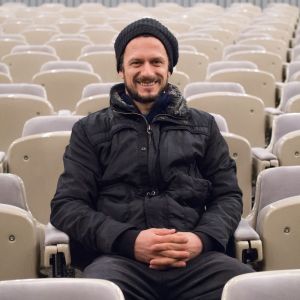 ACTOR | AUTHOR
Hotel Paradiso
Born in Filderstadt, Germany, and raised in Windhoek, Namibia. Education in physical theatre at Folkwang University of the Arts in Essen. Engagements include Lübeck City Theatre and State Theatre Wiesbaden. Directing work at Marburg Theatre. Dancer and choreographer for Renegade Theater since 2003. Member of the dance ensemble "Unusual Symptoms" at Theater Bremen since 2012. Actor and author for Familie Flöz.
"Als ich auf die Bremse treten wollte, war diese nicht da."
Gianni Bettucci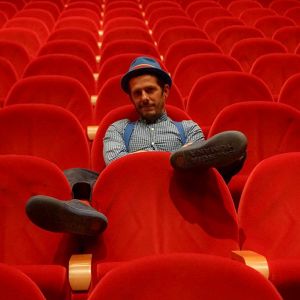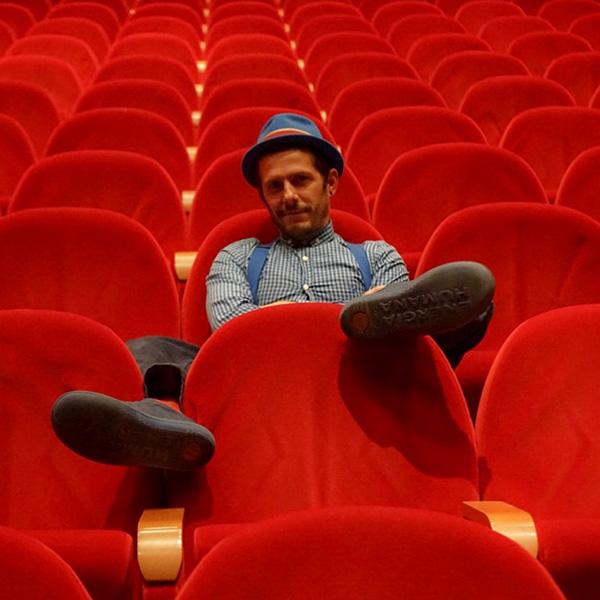 MANAGER Familie Flöz
FOUNDER, HEAD Flöz Summer Academy
ARTISTIC PRODUCTION DIRECTOR Teatro Delusio, Infinita, Hotel Paradiso, Garage D'Or, Haydi!, Dr Nest
Born in Florence, where he studied literature and history and founded the theatre group Nostalghia, which produced children's theatre plays from 1992 to 1998. In the year 1999, he organised the first conference on the work of the author Pier Vittorio Tondelli (Un weekend postmoderno) at the Teatro di Rifredi in Florence. Subsequently, he worked as company manager for various theatre groups in New York and London. For Familie Flöz, his role is not just manager, but also Artistic Production Director. In addition, he was director and actor in Navigazioni, a coproduction of Teatro della Tosse, Familie Flöz, Materiali Resistenti and Camut Band. He initiated the Flöz Summer Academy in 2006, regularly participating as an actor himself.
"Com'è bello far l'amore da Trieste in giù"
Raffaella Carrà
Hajo Schüler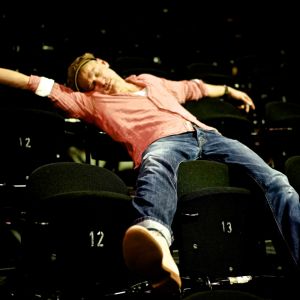 COFOUNDER, ARTISTIC DIRECTOR Familie Flöz
ACTOR, AUTHOR, MASKS Familie Flöz kommt Über Tage, TWO% Homo Oeconomicus, Navigazioni, Teatro Delusio, Infinita, Garage d'Or, Himmelerde
ACTOR, AUTHOR Ristorante Immortale, two% happy hour
AUTHOR, MASKS Hotel Paradiso
ACTOR, AUTHOR, MASKS, PUPPETS Haydi!
DIRECTOR, AUTHOR, MASKS Dr Nest, Hokuspokus ACTOR, AUTHOR, MASKS Himmelerde
Born in Hammelburg, Germany. Trained at Folkwang University of the Arts in Essen. He worked as actor, choreographer and director at several playhouses, inlcuding: Teatro dell'Opera di Roma, Essen Theatre and Philharmonic, Deutsches Schauspielhaus Hamburg, Burgtheater Vienna, Schillertheater NRW, Frankfurt Opera, Centro Cultural Recoleta Buenos Aires and Ballhaus Ost Berlin. His teaching work comprises assignments at the University of the Arts Berlin, the Folkwang University of the Arts Essen, State University of Music and the Performing Arts Stuttgart, Otto-Falckenberg-Schule München. In addition, he has led numerous seminars on the topics of "mask" and "play" since 1996. Initiator, cofounder and Artistic Director of Familie Flöz.

"When somebody is wearing a mask, he's gonna tell you the truth. When he's not wearing a mask it's highly unlikely."
Bob Dylan
Johannes Stubenvoll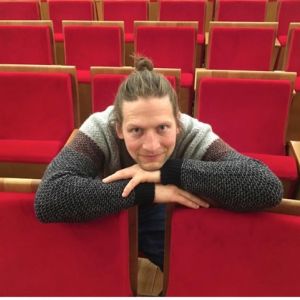 ACTOR Teatro DelusioAUTHOR, ACTOR Feste
Born in 1985 in Graz (Austria). Studied from 2006-2009 at Die Etage (Berlin), school for physical stage arts and speciallity mime. Since 2009 he has been an active in various projects in the field of mime, physical theatre, dance and mask theatre like the companies Teatr Formy and Teatr Sztuk in Poland, Teatr Novogo Fronta in the Czech Republic and Cia Bodecker und Neander in Germany. Since 2011 he has been involved in the production HOME from Theatre Fragile and since 2012 he has been dancing with Ten Peen Chii. In 2013 Johannes is playing with InZhest Theatre in Minsk (Belarus) and in the same year he creates together with Irene Fas Fita his own company NiMú with two premieres Alife and Mr death and the strawberry ice cream. Since them Johannes has collaborated with La fura dels Baus and the director Elzbieta Bednarska and he is dancing for YET Company.
Matteo Fantoni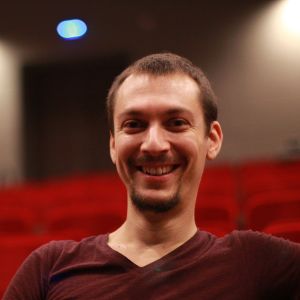 ACTOR Hotel Paradiso
Born in Arezzo, Italy. Graduated at the Scuola Teatro Dimitri (SUPSI), in Switzerland. He integrated his studies in various theater and dance workshops with Johnny Melville, Bruce Myers, Carlos Martinez, Benno Vorham, Julien Hamilton, Raffaella Giordano, Carolyn Carlson. Since 2000 Technical Director and Lighting Designer for some of the most important Italian contemporary dance companies. Co-founder of the Teatro Insonne Company, in which he is author and personally takes care about music, lights, costumes and masks. Actor at Familie Flöz.
Mats Süthoff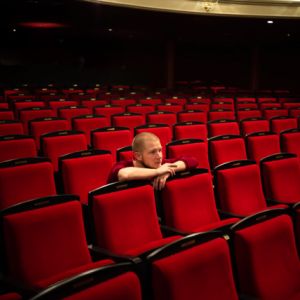 ACTOR | AUTOR Dr Nest, Himmelerde, Hokuspokus
Theatre- & Filmmaker. Born in Aachen. Trained at the Folkwang University of the Arts in Essen, during which he cooperated amongst other things with Maschinenhaus Essen, FFT Düsseldorf, and the theatre collective Armada Theater. He won the Public Award at the TheaterFilmFest for his film "Wenn ich Ich sage", the Best Actor Award of the Bada international Theatre Festival in Seoul, Korea, for his part in the piece "At the shore of Styx", as well as the Folkwang Price for his graduation piece "Die Genießer", in collaboration with Paulina Alpen.
Currently he directs his first feature film "Seoul Subscriber" and is actor and author at Familie Flöz.
"LUCK IS A MATTER OF MOVING." - An old lady in France
Matthias Hilke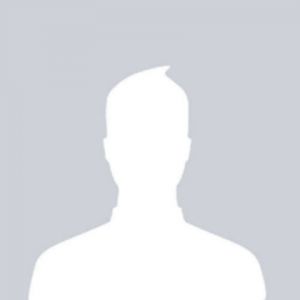 Marina Rodríguez Llorente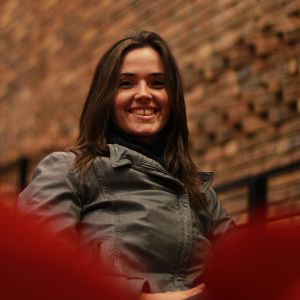 ACTRESS Hotel Paradiso
Born in Terrassa, Spain. Trained in physical theatre at the Institut del Teatre de Barcelona. Performer in "Spielwiese. Zwei im Quadrat" (Theater Unterm Turm) and for Piet Starret in "Save You Hate Me". Author and actress in "Suburbis" - a physical theatre play about the life of Frederic Mompou. Direction and acting in the video performance "Música Callada", awarded first prize at the Festival de Pasqua de Cervera 2014. In 2011 she cofounded the Kazibaze Theater together with Clara Gracia. She is also cofounder of "Theater Am Tisch", performing in its production "Getaway" and directing and acting for the play "ALTBAU". She is an actress with Familie Flöz.
Max Rux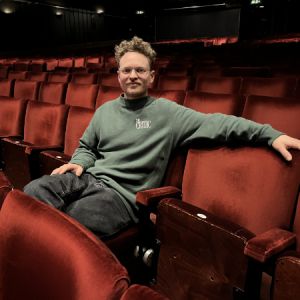 LIGHTING TECHNICIAN Hotel Paradiso, Teatro Delusio, Feste
Melanie Schmidli
ACTRESS Hotel Paradiso
Born in Basel. Formed as actress at the Berlin University of the Arts. After guest engagements in Hannover and Potsdam, she had her first full-time engagement at the Berliner Ensemble in 2007. Ensemble member at Leipzig Central Theater from 2008-2011. Freelance theatre professional in Germany and Switzerland since 2011. She regularly performs at the Sophiensaele Berlin with her duo "Projekt Schooriil" and realises own productions, such as "Marielle, die Ehrjungfrau" (awarded third place at the Premio Award) or "Paint it black" with which she tours in Germany and Switzerland. She works as an actress for Familie Flöz, Hotel Paradiso being the first cooperation.
Maraike Brüning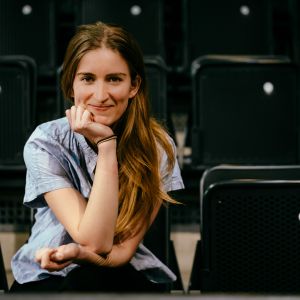 MUSIC Feste
Born in Filderstadt, Germany. Studied piano at the Musikhochschule Lübeck and the Royal Conservatoire of Scotland. Apart from her work as a soloist and chamber musician, she improvises and writes for intercultural and interdisciplinary projects. Examples are her solo piano theater "Summerheart/Sommerherz" (among others Tron Theater Glasgow, Staatstheater Oldenburg), the cooperation with light designer Robbie Thompson ("An eyeful of Sound") or since 2012 the collaboration with musicians from the Arab world (Duo VagaBond/ Ensemble Hiwar/ Orient meets Occident, Festival Junger Künstler Bayreuth.) With Familie Flöz she wrote and performs the music for FESTE.
Michael Ottopal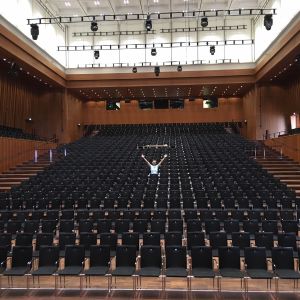 STAGE Familie Flöz
STAGE DESIGN Infinita, Hotel Paradiso, Garage D'Or
Born in Augsburg. Formed at the Academy of Fine Arts in Munich. Sculptor with Albert Hien – e.g. "Expo 2000 Hannover" – and art teacher in Munich, Weilheim, Augsburg and Switzerland at the Rudolf Steiner School in Wetzikon-Zurich until 2004. As from 2005, stage designer for Familie Flöz, Peter Ender, Stefan Lochau, Michael Vogel, Michael Moritz and Christopher Gottwald, among others. Stage designs include "Leonce und Lena", Schauburg "Der Jasager", Stadttheater Augsburg / "Wie es Euch gefällt", Dahlheimer Sommer / "KlasseKlasse", "KlasseTour" and others, Theater Strahl Berlin / "Der zerbrochene Krug", Vogel & Vogel GbR / "4Boatpeople" and others, Vagantenbühne Berlin / "TrauDich" (Commission for the Federal Centre for Health Education BZgA), Kompanie Kopfstand Switzerland / "Weihnachten bei Ivanovs", Vienna Conservatory.
"Keep at it, skip nothing!"
Michael Vogel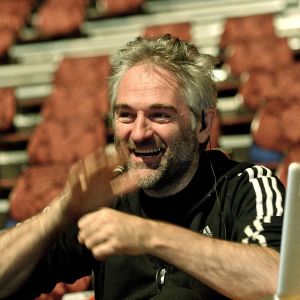 COFUNDER, ARTISTIC DIRECTOR Familie Flöz
DIRECTOR, ACTOR, AUTHOR, MASK BUILDER Ristorante Immortale
DIRECTOR, AUTHOR two% happy hour, TWO% Homo Oeconomicus, Hotel Paradiso, Garage D'Or, Haydi!, Himmelerde, Feste
DIRECTOR, ACTOR, AUTHOR Infinita
DIRECTOR, ACTOR, AUTHOR, STAGE DESIGNER Teatro Delusio
CO-DIRECTOR, AUTHOR Dr Nest
ACTOR, AUTHOR Hokuspokus
Born 1962 in Naila, lives in Berlin. Studied at Folkwang University of the Arts in Essen. Michael Vogel has worked as director for numerous artists, companies and theatres – including Bremer Shakespeare Company, Schauspielhaus Bochum, Theater Strahl Berlin and Gardi Hutter. He taught at Berlin University of the Arts and Ernst Busch Academy of Dramatic Art, among others. He is director at Familie Flöz, but has also worked as actor, mask builder and stage designer in some plays.
"Phantasie, Poesie und Masken öffnen uns die innerste Welt."
Nicolas Witte
ACTOR Familie Flöz kommt über Tage
ACTOR | AUTHOR two% happy hour, TWO% Homo Oeconomicus, Navigazioni, Hotel Paradiso
Born in St. Gallen, Switzerland. Trained at Jacques Lecoq International Theatre School in Paris. Participated in diverse theatre productions as actor, author and director: Theater Halbe Miete, Teller Teller Teller, der Witte-Abend, Eine Theaterlive soap-opera, Pyramus & Thisbe, Theater Antena, Zap Zap Zap, der Telefonmann, Intransit Theater. Clown and clown coach for Theodora Foundation. Also mask and clown lecturer for diverse theatre schools: Department of Performing Arts at Zurich University of the Arts, BA Department of Theatre Arts and Dance at University of Minnesota, Actors Center and ATYP Sydney. Actor and author at Familie Flöz.
Ottavia Trama
COSTUMES Haydi!
Born in Genoa (Italy), where she graduated in Costume and Set Design at the Academy of Arts and she started her working experience. She also studied Prosthetic und Make Up Special Effects at the BCM in Milan and earned a Master in Costume Design for Performance at the College of Fashion (AUL) in London. She has been working for many years between England and Italy and together with theaters such as Sadler's Wells, Lilian Baylis Studio, The Place, National Ballet and Edinburgh Playhouse. She exhibited her costumes at the Victoria and Albert Museum in London. At Familie Flöz she is costume designer.
Reinhard Hubert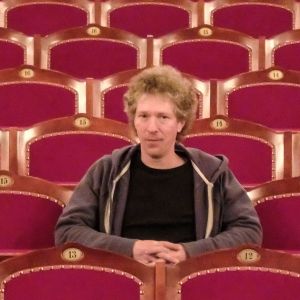 TECHNICAL SUPERVISOR Familie Flöz
TECHNICIAN Familie Flöz kommt Über Tage
LIGHTING DESIGN, TECHNICIAN two% happy hour, two% homo oeconomicus, Ristorante Immortale, Teatro Delusio, Inifinita, Garage D'Or, Hotel Paradiso, Haydi!, Dr Nest, Himmelerde, Feste, Hokuspokus
Born in Bochum in the Ruhr area. Formed by many years of energetic participation. Technical supervisor and/or lighting designer, stage designer, audio and video engineer for Westfälisches Landestheater Castrop-Rauxel, Ruhr Festival Recklinghausen, Folkwang Dance Studio, Kompanie Daniel Goldin, Rodolpho Leoni Dance, Henrietta Horn, among others. For Familie Flöz, he acts not merely as technical supervisor and lighting designer, but also as stage head, driver and feared critic in personal union.
Sebastian Kautz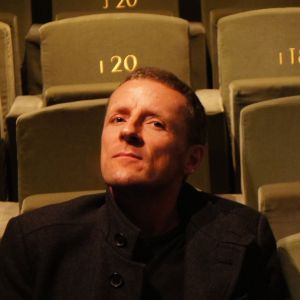 ACTOR Teatro Delusio
ACTOR, AUTHOR Hotel Paradiso
Born in Berlin. Acting Studies at the University of Music and Theatre Leipzig. Engagements include Theater an der Parkaue in Berlin and bremer shakespeare company. Radio host for energy Sachsen, film and TV actor including for the "Tatort"-series, workshop leader for improvisation and mask theatre and also various directing work. His staging Timon from Athens was the German contribution to the World Shakespeare Festival in London in 2012. Founder of the figure theatre for adults with live music Bühne Cipolla. Actor for Familie Flöz.
f - h - dis - gis
(Tristan-Akkord)
Sylvain Faye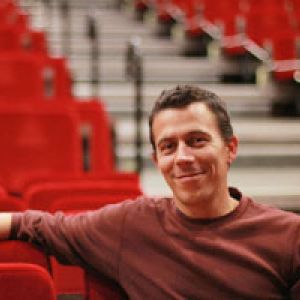 LIGHTING TECHNICIAN Hotel Paradiso, Teatro Delusio
Born in Clermont-Ferrand, France. Formed in Montpellier and Paris, with an MA in Fine Arts and Sculpture. Works as lighting and stage designer for several theatre groups and directors in Europe and Asia, including Théâtre de Ajmer, Stephane Braunschweg and Chao chi Ma. Sculptor and assistant for artists such as Ólafur Elíasson and Sofia Hulten. Lighting Technician for Familie Flöz.
"Nothing is more superfluous, more dishonest, more vain, more necessary than theatre."
Louis Jouvet
Thomas Rascher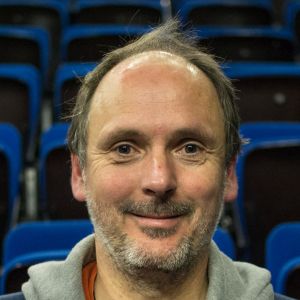 ACTOR, AUTHOR Familie Flöz kommt über Tage, Hotel Paradiso
Studied at Folkwang University of the Arts in Essen and trained as movement educator in the Franklin method in Uster, Switzerland. Solo productions at Junges Theater Essen. Cooperations with diverse independent theatre groups as actor, mask builder and director. Teaching work as a free lecturer on theatre and movement, mask theatre and mask building, including at the Akademie Remscheid. Professor at Folkwang University of the Arts for the Acting and Physical Theatre courses since 2011. He is actor and author for Familie Flöz.
"You need to be in love with succeeding!"
Ernst Bloch
Thomas van Ouwerkerk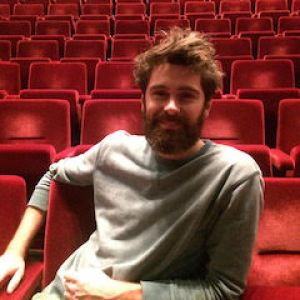 ACTOR Teatro Delusio
AUTHOR, ACTOR Feste
Born in Rotterdam, The Netherlands. Actor and performer. Educated at the School of Acting Utrecht (HKU) and did as well a term at L'Ecole Philipe Gaulier in Paris. Engagements at several theatre companies as Abattoir Ferme (Monkey), Theatre Hotel Courage and td Maas (Alleen op de wereld). He creates his own shows with "Thomas, Sascha en Jos" under the wings of theater aan het Spui, which they played last years at the theatre festival "de Parade". Currently he is working with the director Jakop Ahlbom. Horror (2015), Het Leven een gebruiksaanwijzing (2013), Games without Frontiers (2011).
Thomas Wacker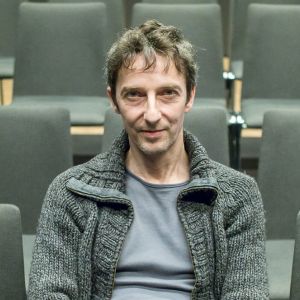 SOUND ENGINEERING Teatro Delusio, Hotel Paradiso
Born in Recklinghausen. Studies of German Language and Literature and Journalism in Münster and training as carpenter. Sound, Lighting and Stage Technician for the Ruhr Festival Recklinghausen, the Folkwang Dance Studio as well as for diverse choreographers from the indie scene. For Familie Flöz, he was in charge of sound for Teatro Delusio and Hotel Paradiso.
"Smoking can be deadly... such as everything in life"
Sarai O'Gara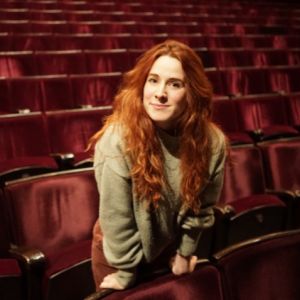 ACTRICE, AUTHOR, MUSICIAN Hokuspokus
[Actress and vocal performer, born in Zaragoza, Spain. She holds an acting diploma from ESADCyL University. Afterwards she trained with the multi-award international company "Songs of the Goat" in Poland and studied "Devised Theater and Performance" in the London International School of Performing Arts (LISPA) in Berlin. As a vocal researcher she specializes in improvised singing and is passionate about collecting traditional songs from different parts of the world. Since 2019 she is collaborating with the Replica Institute in the project "The shapes of things to come" and is part of the Female Polyphonic Ensemble "Perperúna" based in Berlin.
Vasko Damjanov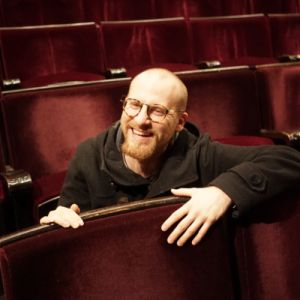 COMPOSITION, SOUND DESIGN, SOUND ENGINEERING Hokuspokus
Born in Bremerhaven and raised in Helsinki, Sofia and Wattenscheid, Vasko first studied classical guitar in Enschede. Afterwards he graduated in Integrative Composition at the Folkwang University of the Arts in Essen, with a focus on electronics. Besides many music and band projects, as a guitarist and singer, as well as some film scores, Wassil Damjanov developed into a sought-after artist in the field of physical theater, as well as theater and collaborated in many projects. His wide spectrum ranges from fixed media, live electronics, installations to live music.
He also likes to talk about himself in the third person.
Valentina Bordenave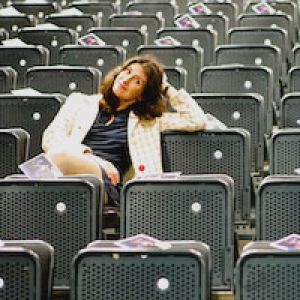 DANCER, AUTHOR, CHOREOGRAPHER TWO% Homo Oeconomicus
TEACHER Flöz Summer Academy
Born in Rosario, Argentina. Trained in contemporary dance at Folkwang University of the Arts in Essen. She worked as a dancer with choreographers Mark Sieczkarek, Hamid Targhi, Malou Thain and carried out projects in cooperation with Mikel Aristegui, Yeri Anarika Vargas Sanchez, Pablo Rodríguez Jauregui and Iván Marino, among others. Valentina teaches Alexander Technique, dance and improvisation at institutions such as the University of the Arts Berlin (Acting Department) and London International School of Performing Arts (LISPA). She works as a dancer, author and choreographer for Familie Flöz and teaches movement at the Flöz Summer Academy.
www.unfoldmethod.com

"El que ríe último, ríe mejor!"
prior socius
...und auch diese Menschen haben Familie Flöz seit 1994 mitgestaltet und bereichert:
Kenneth Spiteri, Paco Gonzalez, Marianne Cornil, Markus Trapp, Silke Meyer, Ottavia Trama, Michael Moritz, Christoph Sieber, Eliseu Weide, Ilka Vierkant, Jesko von den Steinen, Michael Michalowski, Priska Elminger, Paul Kustermann, Sandy Schwermer, Stefan Ferencz & Werner Wallner.
Flöz has its origins at the Folkwang University of the Arts in Essen, the only public education facility for physical theatre in Germany.
In 1994, a first version of ÜBER TAGE celebrates its premiere at Folkwang, followed by the short version FLÖZ & SÖHNE in 1995.
In 1996, the closed coal mine Zeche Hannover in Bochum hosts the premiere of FAMILIE FLÖZ KOMMT ÜBER TAGE, an homage to the mining and working class culture of Germany's industrial zone, the Ruhrgebiet. The play is highly praised by the press and public alike. Flöz describes a particular layer of earth rich in minerals and biomaterial.
In 1998, following numerous international guest performances in France, Holland, Denmark and Slovakia, a second play, RISTORANTE IMMORTALE, is created with a new ensemble. This work, an allegory about the temporary nature of life, is also without spoken word and lives through images, sounds and music. In the same year, Flöz appears in Berlin for the first time, performing at Prater/ Volksbühne.
In line with the first guest appearance at the Edinburgh Festival Fringe 2001, the group names itself Flöz Production, later to become Familie Flöz. The Edinburgh performances attract invitations to stage RISTORANTE IMMORTALE throughout Europe, Asia and Australia.
In the years 2000 and 2001, two new productions emerge, TWO% – HAPPY HOUR (a theatre installation at the Maschinenhaus Essen) and TWO% – HOMO OECONOMICUS, co-produced by Theater Dortmund. Both works explore the nature of man as consumer and salesman.
The company leaves the Ruhrgebiet in 2001 and moves to Berlin. Together with Teatro della Tosse, NAVIGAZIONI is performed in the hull of a cargo ship in Genoa in 2001 and tours in ports throughout the Mediterranean. The next work TEATRO DELUSIO is again a production for the stage and premieres in 2004 at the Arena Berlin, followed by a sold-out run at the Edinburgh Fringe Festival as part of the Aurora Nova programme. This play literally is a look behind the scenes, set in a theatre backstage, with three actors embodying 30 characters. TEATRO DELUSIO is the first coproduction with Theaterhaus Stuttgart that has since remained a partner, performance venue and co-producer of the company. The work continues to be performed and has played over 600 times in 29 different countries.
2005 sees the first annual FLÖZ AKADEMIE in Italy, an academy with 30 young theatre-makers from around the world participating to study and work with the Flöz ensemble.
In 2006, the newly renovated Admiralspalast in Berlin presents two new productions by the company: INFINITA (premiered at the Akademie der Künste Berlin), a physical/visual mosaic about 'becoming' and 'leaving' that explores the first and last steps of life; and HOTEL PARADISO, an Alpine thriller. Both shows are performed over 50 times in Studio Admiralspalast and have since then continued to play worldwide. In 2008, a second version of HOTEL PARADISO is created with a new ensemble and in coproduction with Theaterhaus Stuttgart and Theater Duisburg.
In the years 2008 to 2010, Familie Flöz tours a repertoire of four productions intensively in Spain, Italy, Holland, Germany, Brazil, Mexico and many other countries.
In 2010, the new production GARAGE D'OR is presented at Theater Duisburg during the year of the European Capital of Culture. The work investigates the restless longing of men seeking distance, accomplishment and triumph. The show premieres in Berlin in 2011 at the Volksbühne. A documentary film by arte and WDR, Hinter der Maske – Das Theater der Familie Flöz (Behind the Mask – The Theatre of Familie Flöz), accompanies the creation of a second version of GARAGE D'OR. The film premieres in 2012 at the Leipzig Festival, where the company also receives the Audience Prize for INFINITA.
In 2013, Familie Flöz concludes its first guest appearance with Hotel Paradiso at the Festival d'Avignon with an enthusiastic response from audience and press, also winning the Off Critic Prize. It is followed by a tour through 80 cities in France.
At the end of 2013 the company celebrates the opening of Studio Flöz in Berlin-Weissensee, a space for the production and creation of international physical theatre.
The premiere of HAYDI!, the latest production, takes place in November 2014 at Theaterhaus Stuttgart. In the following year the play receives the Monica-Bleibtreu-Award "Best Comedy". HOTEL PARADISO is a sold-out run of three weeks at the Edinburgh Fringe Festival.
2016 INFINITA is presented for the first time at Sadler's Wells during the International London Mime Festival. Following the sold-out show, Sadler's Wells invites TEATRO DELUSIO for their season 2016/2017.
In 2016, TEATRO DELUSIO is re-staged with a new cast, becoming an instant audience favourite and winning the company seven 5-star reviews at the Edinburgh Festival Fringe. Following the success in Edinburgh, the company sets out on an international tour.
Season 2016/ 2017 sees four productions touring simultaneously: while HOTEL PARADISO undertakes an extensive tour in the Far East reaching China, India and Vietnam, HAYDI!, INFINITA and TEATRO DELUSIO travel through various countries in Europe.
2018 Familie Flöz comes back to Berlin after few years absence with the Premiere of its new production, Dr Nest, followed right after by an international tour in Italy, France and Portugal, where it wins the Audience Prize at the prestigious Festival Almada.
2019 sees the premiere at the Staatsoper unter den Linden of HIMMELERDE, a Song-Opera by and with Familie Flöz and Musicbanda Franui, with on stage the Australian dancer Paul White and the singers Anna Prohaska and Florian Boesch.
Familie Flöz is currently working on a three years cycle about Creation/Creators. First step the premiere of the play FESTE in April 2021.
Until today Flöz has performed its work in 43 countries throughout the world.